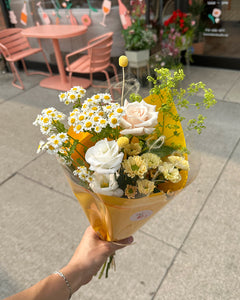 ** Pick-up only **
Our special $25 grab & go bouquets are the perfect option if you're looking for a small gift or to treat yourself. 
The flowers used & colour palette vary daily. If you have a preference, please make note at checkout and we will do our best to accommodate, however there is no guarantee. 
Each bouquet will include 4-5 flowers + greens.
The grab & go bouquets are packaged in a coloured recyclable wrap and finished with a satin ribbon and our Bouquet Care Card. If you'd like your bouquet in a water source, please make sure to select. 
*Water Source is foam soaked in water and wrapped in a tightly sealed bag. This will keep the flowers/greens hydrated for 24-48 hours, however we do recommend that the recipient follow our Care Card instructions for best floral care.